We are a creative, boutique hair salon that offers our clients a unique hair experience.
Our goal is to provide clients with a sense of empowerment and transformation, one cut at a time! Come in to one of the cutest salons in Long Beach and let one of our awesome stylists give you a hairstyle that you'll love. Whether it's a drastic change or just a slight update that you're looking for, you'll leave with a hairstyle that you can't wait to show off. We are near retro row and are part of the 4th Street Business Association.
We are a certified green business and are committed to sustainability. We use PETA certified, sustainable products; and water saving "Ecoheads" showerheads on our shampoo bowls.
Services
Our stylists offer a variety of services; including cuts, color, highlights, texturizing, ombre, balayage, Hotheads extensions (tape-in) and Brazilian Blowout. Some general prices are as follows, depending on your hair density and color history.
Partial highlight touch-up
$115+
Brazilian Blowout express
$150+
Bleach root and tone
$110+
Extensions
Consultation Required
Olaplex, B3, or F18 bond builders added to color service starting at $25
*includes blowdry and style
**includes blowdry
***For our vivid colors, we use Pravana, Joico, and Pulp Riot. Your hair must be bleached to platinum blonde in order to do any pastel colors.
Stylists
We do not have a receptionist, as we all make our own schedules. If you would like to book an appointment, it is best to contact the stylist directly.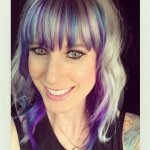 Celia Brennan
/
Owner & Stylist
/
(714) 350-7845
Celia has been a hair stylist/color expert for 15 years. She has been educated in both cut and color at the TIGI (Toni & Guy) Advanced Academy. She is also a certified Master Colorist by Framesi. Celia is a certified Brazilian Blowout technician, Hot Heads extensions certified, and specializes in creative cuts, color, balayage, and color correction.
If you don't have a stylist preference, you may call or text Celia and she will set you up with the first available appointment.
Any cancelations within 24 hours of an appointment will be subject to a $25-$50 rebooking fee.
Product
Our stylists use Pravana, Joico, and Pulp Riot vivids and pastel colors—pastels must be done on very light blonde hair. We LOVE the Formula 18 mask which helps to rebuild the hair and is wonderful after any type of lightening service.
We proudly offer Brazilian Blowout shampoo, conditioner, and masque, which are vegan, gluten free, AND do not test on animals. The aftercare also extends the life of the Brazilian Blowout Smoothing Treatment.
We carry the full line of Kevin Murphy retail products, which are all sulfate-free, paraben-free, and are 100% PETA certified!! Kevin Murphy products are packaged using Ocean Waste Plastic! This is a huge contribution to helping our environment and we are so proud to be able to carry this wonderful product line. We primarily use Kevin Murphy and Eleven Australia styling products on our clients.
We also carry the brand Eleven Australia which is a partially vegan and gluten free product line, and is also Peta certified.